History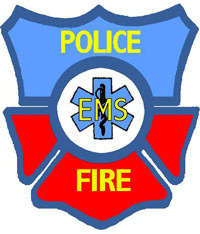 In Delaware County there are 78 volunteer fire companies, 33 ambulance services and 40 municipal police departments serving the half million plus citizens of the county. These dedicated people provide the necessary response to emergencies in a moment's notice which could not happen without the specialized training that the Delaware County Emergency Services Training Center has offered.
Since the early 1970's there have been people envisioning a need for a training facility; including the late John Reilly, Common Pleas Court Judge, as well as the late George T. Lewis, Fire Marshall, who championed the need for the training of the county's fire, police and ambulance personnel. Several efforts were made during this period, all in vain, to provide a specialized facility for emergency response personnel to train and refine their skills. The pressing need for a training center became more apparent during the mid 1980's as laws were passed requiring a basic level of training for all volunteers participating in the fire and emergency services, as well as the mandatory training standards for police and other law enforcement officers.
The vision was not to be realized until the late 1980's when a vacant incinerator located on the border of Darby Township and Folcroft Borough became the focal point of the efforts of countless county volunteers. It was the service of these unrelenting volunteers, which eventually culminated in the opening of the Delaware County Emergency Services Training Center.
The training center, formally known as the Folcroft Incinerator Facility, is located on Calcon Hook Road in Darby Township, Delaware County, Pennsylvania. The incinerator was constructed around 1960 and closed in 1978 due to fire. At that time the complex was approximately 17,800 square feet in size and 70 feet in height.
The facility sat idle for 10 years following the fire. By the time the county began its quest for a site adequate for training emergency personnel, the elements had left the incinerator facility in a dilapidated state. Further hampering the resurrection of the facility were the deteriorating remains of the large furnaces and support equipment, including a 165-foot tall smokestack.
In 1989 the conversion from incinerator to training center began in earnest when the Youth Service Corps started work on the grounds of the complex. Over the next five years, countless community volunteers donated their time, labor, money, equipment and supplies to make this effort a success. By October 1992, the center was ready to hold its first official emergency course for medical technician training. In March 1993, the first evening fire school was held. During the first week in August of the year, the first management training seminars for county department heads were held. By the end of the training, hours soar to over 34,000.
In 1995 new projects, including construction of the burn building and practical skills classrooms, helped to increase hours to over 45,000. With 1996 being no exception, the total hours of police, fire and emergency medical training reached over 80,000 hours.
The amazing progress and success of the project has not gone unnoticed. In 1990, John Garland, Chairman of the National Commission of Employment Policy, called the training center one of the most "successful community programs" he had ever seen. Most recently, in Chicago, Walter R. Omlor, Jr. Executive Director of the ESTC was presented with the National Association of Counties Model Project Award for the training center. All of the accolades and commendations by the training center can be directly attributed to the community spirit of Delaware County. This project would have never gotten off the ground to become such a success with out the support and cooperation from the county government under the leadership of Mary Ann Arty, Zeke Forlini, owner of Action Concrete, became a major source of guidance to this project and coordinated local businesses, trade unions, and private citizens. The Delaware County Emergency Services Training Center is certainly evidence of what can be accomplished when a community pulls together to achieve a common goal.
In 1987 the County of Delaware created a twenty member Board of Fire and Life Safety with the goal to establish a dedicated, specialized facility and curriculum designed to train emergency services providers. Objectives of the Board were to plan, develop and fund current activities, while instituting new projects, courses and related training programs associated with the needs of public and private organizations involved with providing emergency services. Such organizations include, but not limited to: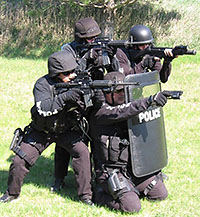 Municipal Police Departments
Other Law Enforcement Agencies
Fire Departments
Emergency Medical/Ambulance Services
Disaster Planning and Management
Fire Prevention/Education Activities
Civil Defense/Emergency Preparedness
Hazardous Material Incident Management
SARA Title III - Hazardous Material handling
Industrial, Business & Private Fire Brigades
Private Security & Plant Protection
Product Testing
Aircraft Rescue & firefighting
Heavy Rescue Operations
Other Specialized Groups
To tell our story in its entirety would take hours but we would like to highlight the major events.
1987 1988 1989 1990 1991 1992 1993 1994 1995 1996 1997 1998 1999 2000 2001 2002 2003 2004 2005 2006 2007 2008
County of Delaware created a twenty member Board of Life and Safety.
Ethel Sargeant Clark Smith provided $20,000 seed money to the project.
Goodwill, Briarcliffe, Darby Township #4 and Garden City Fire Departments began nightly demolition/clean up labor projects.
Upland Borough donated a 60-foot trailer, which becomes temporary classrooms and office.
Robert Linn, Architect, donated services and long range planning began.
Judge Francis Catania and Judge William R. Toal, Jr. authorized the use of work release inmates to begin demolition and clean up facility.
Four turtles delayed project for nine months as an environmental study was undertaken.
The County awarded a Community Development Block Grant for the demolition of large burning oven, conveyors, etc.
Zeke, from Action Concrete, donated large equipment and material to expedite construction.
Youth Service Corp began work on grounds.
Scott Paper donated $75,000 payable over the next three years.
In three days Kiwi Perini delivered 278 truckloads of dirt from the Blue Route excavation to fill in sludge pits.
Prisoners continued work.
Plans were placed on Computer Aided Design by Robert Linn, Architect.
Firemen's Association donated $5,000 towards live-burn room.
Building and grounds were totally secured.
John Gartland, Chairman of the National Commission on Employment Policy, heard about the project and he visited from Washington, D.C.
Second Youth Service Corps awarded state recognition for their work at the facility.
Boeing Helicopters donated $150,000, payable over three years towards project.
Emergency Health Services Council donated $5,000 towards project.
Suburban Water Company donated and installed water main, hydrant and meter pit, which would have cost $40,000.
Early spring - Trade unions committed to aid in remodeling of facility.
Cleveland Wrecking Co. donated labor and equipment to demolish 165-foot smokestack.
Action Concrete donated material and built retaining wall tewnty four foot long by twenty four foot high.
August - Roofers Union Local donated labor and placed a new roof on practical skills area.
August - Carpenters Union donated labor and built a complete multi-level smoke maze and practical skills area.
September - Electrical Union began writing facility with volunteer labor.
Mechanical study completed by Ed Gannon of RADAC Sales Corp.
Pa. Dept of Labor awarded Delaware County a demonstration project dealing with work site youth for $50,000.00.
Finnaren and Haley Paint Company donated 600 gallons of paint to project.
Philadelphia Electric ran electrical service into facility.
Work release inmates removed roof from four-story complex.
Painters Union Local 921 provided three weeks of labor, painting stair towers and first floor.
Pipefitters installed internal piping for heating system.
Cassidy Construction provided donated labor to build internal block walls.
Heating plans are finalized and units are purchased from Lennox Corp.
All three roofs are replaced including capping and internal roof drains.
Two major funding proposals were submitted.
R. Gillette installed heaters.
South Media Fire Co. planted trees purchased under grant from "America The Beautiful".
All major utilities were hooked up.
Bell of PA awarded the Center $10,000 grant.
County of Delaware awarded grant for completion of handicapped ramp and handicap accessible restrooms.
September - Court ordered Community Service began massive twenty straight days of renovation involving over 100 people.
Office of Employment Training funded two additional youth skill/work-training programs.
Preliminary plans for the Police Firing Range are presented to Darby Township officials.
October - First formal class of Emergency Medical Technicians moved into permanent facility.
Board of Fire and Life Safety is awarded five rooms of furniture from a bankruptcy hearing in Fort Lauderdale, Florida.
Second floor ceiling height lowered 12 feet and insulated to create four learning areas.
Basement floor poured and finished by cement finishers union. Twenty-five steel trusses were erected which lowered ceiling height in the auditorium by twenty-two feet.
Independence Blue Cross/Blue Shield provided $6,000.00 for equipment to support emergency medical services training.
The County provided funding for the paving of the parking area, erection of 1400-feet of fencing and the pouring of 2400 square feet of concrete.
Hundreds of volunteers began 27 straight days of work.
October - groundbreaking ceremonies took place for the police firing range.
Training Center began the development of a "Home Alone" program for elementary school students, which included:

Fire Prevention
Touch, Don't Touch
Mommy's Unconscious on the floor
School Bus Safety
Seatbelt Safety
Walk Smart

Practical skills area was completed for use by Emergency Medical Services and related community programs.
Nathan Speare Foundation contributed $5,000 towards instructional equipment.
Congoleum Corporation donated 6,000 square feet of floor covering.
Delaware County Fireman's Association committed $20,000 towards the creation of the George T. Lewis Memorial Library and Resource Center.
Chester Water Authority provided 450 feet of piping for the water supply needed at the live fire training building.
Practical skills area is opened three nights a week for use by volunteer fire companies.
County of Delaware committed $48,000.00 to pave 22,000 square feet of parking lot.
Hazmat Advisory Council contracted with the Board of Fire & Life Safety to provide 18,000 hours of instruction.
Delaware County Board of Fire & Life Safety joined Bucks County in their efforts to receive certification from the National Pro Board.
Fitzgerald Mercy Medical Center received EHSC approval to station a Paramedic Unit at the Training Center.
Upper Darby donated mini-pumper fire truck for instructional purposes.
George T. Lewis Library and Resource Center dedicated during Fire Appreciation Day.
Training Center began pilot program "Essentials of Firefighting Module II" in cooperation with Pennsylvania State Fire Academy.
Woodlyn Fire Company donated an ambulance for emergency services instruction.
Training Center received seven truckloads of modern surplus furniture from County of Delaware.
September - Fitzgerald Mercy Paramedics relocated into a trailer on the grounds of the Emergency Services Training Center.
October - a sign was donated by the County of Delaware.
October - the Training Center received the first payment of $20,000 for three years from the Ethel Sargeant Clark Smith Memorial Foundation.
December - PECO donated base materials for the Emergency Vehicle Operator Course Paving.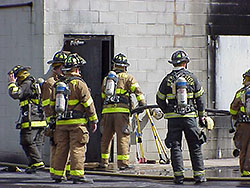 March - the Firemen's Association donated $100,000 toward the construction of a 3-story live fire training building.
March - a 4500-gallon tank was donated by Wyeth Laboratories for use in the Confined Space Rescue Program.
April - the Township of Upper Chichester donated a Brooks Armored Car; Mercy Catholic Medical Center donated a paramedic car; Upper Darby donated a fire pumper; and Woodlyn Fire Company donated an ambulance.
April - the first fire instructor's training class was held at the Center.
Zeke Fulini, Walt Omlor and many volunteers begin construction of 800' of foundation and walls for the police firing range.
June - PECO arranged for electrical service to the Police Firing Range and Live Fire Training Building.
June - the Court of Common Pleas and County Council authorized the Training Center to begin instruction for DUI offenders. All money received benefits fire, police, and EMS Services.
June - PECO authorized Community Service workers to remove a deck with salvage lumber valued at $7,000.00 and donated the lumber to the Training Center and local carpenter union projects.
June - BP Refinery donated a lifting system for confined space training.
June 9 - the Training Center was honored at the Columbus Quincentennial Awards Dinner as the Outstanding Community Program of the Year.
June 15 - a mammoth effort involving hundreds of prisoners and Community Service workers laboring seven days a week was started to polish the facility and the surrounding areas in anticipation of Governor Tom Ridge's visit in September.
June 26 - the Board of Fire and Life Safety named Kerby Kerber the Instructor of the Year. This award is to be presented annually to the selected fire, police, or EMS Instructor.
June 26 - Media and the South Media Fire Companies presented an oil portrait of the late George T. Lewis to be permanently mounted in the George T. Lewis library.
July - The contract for the construction of the Live Fire Training Building room was awarded to Frank Bianco.
Construction began on the three story burn building - To keep cost down the burn committee, community services and Action Concrete pour 189 yards of concrete (19 truckloads) during a nine hour period.
PECO ran a new aerial service two blocks, 325 feet underground to a new transformer.
James Brees designed and constructed 400-amp powerhouse which provides service to the firing range, burn building, drill tower and practical skills area.
Philadelphia Suburban ran the final leg for the hydrant system and water supply for the new restrooms.
Agreements signed for purchase and a five-year working arrangement with Industrial Medics; a confined space/rope rescue training company.
County purchased a new 48-inch Gravely Tractor for grass cutting and snow removal. (Walter will not let anyone ride the tractor.)
August - Storm drain system installed to control water run-off into the drafting pit for fire training.
September - Robert Linn arranged for (38) 40-ft bar joints to be donated from area construction sites.
Glidden Company donated 900 gallons of exterior masonry paint. Burn building primed and painted by community service workers.
October - Seven days a week effort began on new 80 ft. x 18 ft. building to house restrooms/practical skills classroom. Delaware County, through Ed Blair, Purchasing Director, bought all the materials for project.
Westcott Electric donated the light poles for aerial lighting.
475-ft. roadway base constructed around the perimeter of the burn building and police firing range. Action Concrete provided ballast stone and modified gravel. Buckey Frank Construction assisted in the hauling & grading.
Police begin using the enlarged emergency vehicle-operating course.
Pipe and Precast Company donated concrete pipe and pre-cast structures for the confined space rescue Lab.
July - Houston Construction awarded contract for trusses for construction of the firing range.
July 4 - Weekend community Service workers began installation of 984 sheets of ¾ inch plywood for the roof of the firing range. Roof completed in six weekends.
August - Community Service workers constructed and installed four large 9,800-CFM exhaust ventilation fans.
September - Action Concrete, with assistance from Madison Concrete, poured 26,000 sq. ft. of concrete 6 inches thick for police firing range floor. One pour of 440 yds. was accomplished in 2 hours with forty men working.
October - Four tractor-trailer loads from Caswell International, manufacturer of indoor targeting systems, arrived.
Delaware County Police Chief's Association donated $20,000.00 for targeting and control equipment for the police firing range.
November - The Delaware County Firemen's Association purchased a $15,000.00 state of the art satellite system to receive remote training broadcasts.
November - The Board of Fire and Life Safety purchased 12 sets of structural fire fighting gear for instructor's use.
December - The Defensive Driving area opened.
February - The Delaware County Firemen's Association donated $30,000.00 to purchase additional instructional training aids, tools and equipment.
April - The Training Center began to offer industrial training; Philadelphia Suburban Water Company is the first to participate.
May - The police firing range was formally dedicated and opened.
June - Thirty-five firearm instructors from local police departments attend range master training/familiarization class.
August - A second fire instructors training program was completed.
September - Work was completed on the confined space training area.
September - Leo's II opened, students now have an on-site full service steak shop that provides breakfast and lunch.
September - The Board of Fire and Life Safety purchased $30,000.00 worth of additional equipment for fire training.
October - Through the cooperation of the Delaware County Hazardous Materials Advisory Council and the Delaware County Firemen's Association a high pressure breathing air compressor and fill station were placed in service; thus, the need to rely on fire departments to supply students with breathing air was eliminated.
November - The first fire fighters received NPQS and IFSAC Fire Fighter I certification.
November - With the assistance of Cassidy Construction, an additional 20,000 square feet of paving is completed to provide parking for the new Community Service reporting garage.
December - The Swede Flashover Simulator is installed and 12 staff instructors are trained in its use; this unit is one of only 35 in the country.
DEVCO Insurance Company donates automatic sprinkler training lab.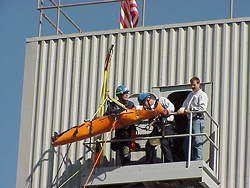 March - The compressor was moved into a new complex of buildings containing fire extinguisher storage, ladder storage, rescue and fire tool storage and fire hose storage.
April - The Community Service Garage was completed and Gear Master Corporation donated $10,000.00 worth of lockers and gear racks.
June - The new computer training lab was opened; 13 new computers and a video projector was used to provide students with the latest in computer training.
Planning began for a new five-story multi-use-training tower.
September - Philadelphia Suburban Water Company and Chester Water Authority contribute labor and material to extend the fire main to the eastern end of the center.
October - construction begins on drive-through warehouse and garage.
November -The Philadelphia Navy Yard donates various marine type fire control facilities for future installation.
January - Automatic sprinkler systems are installed in the main building and community service garage.
March - Delaware County Firemen's Association contributes $70,000.00 in matching funds towards construction of the drill tower.
April - Propane firefighting and control area activated.
April - New five story drill tower installation starts.
April - Sixty-five foot Snorkel Truck procured from Broomall Fire Co.
April - Classrooms 002 and 102 are refurbished.
May - Suburban Cable wires training Center for Internet access at no cost.
June - Course fees for essentials of firefighting reduced with the cooperation of Delaware County Firemen's Association.
September - County Council matches $70,000.00 for drill tower.
September - Sound insulation added to 70% of firing range walls.
October - The new 5-story multi-purpose drill tower is dedicated.
October - The new Sprinkler Lab is completed and dedicated to Thomas Harper of Media Fire Co.
November - Additional 40,000 sq. ft. of roadway and drill grounds are paved.
December - The new drive-thru garage and warehouse is completed.
A third class for potential new fire service instructors is completed. We gladly welcome the lucky seven.
Construction and dedication of the landing pad/ EVOC course and the Harry F. Griffin Operator/drafting site.
Completion of the phase I environmental re-mediation by JMC Contracting.
Construction of a twenty foot X sixty foot addition for DUI interlock systems.
Completion of the first Industrial Fire Brigade Course at Kimberly Clark.
Re-carpeted rooms 002, 104, and hallway.
Installed new tile floors in the EMT office and a section of room 104.
Establish a partnership with CBS/USA for computer support.
Upgrade the computer registration database to Microsoft Access.
Place a 2000 ford F750 box truck into service.
Elaine Karr recognized as Instructor of the Year.
Forklift replaced with greater capacity, versatility and vertical reach.
Vehicle extrication pad expanded and paved.
Constructed threee concrete pads for vehicle firefighting.
Pistol range target lanes eight to fourteen upgraded with new back stop materials.
Endowment fund for fire and EMS scholarships begun with an anonymous donation and the first year's scholarships funded by a $10,000.00 donation from Delaware County Council.
A house at 329 Darby Terrace's rehabilitation was completed and the property sold. $10,000.00 was placed in the Endowment Fund.
The Training Center was designated as the emergency command and staging area for the Republican Convention.
Internet online registration implemented for all courses.
Quadrangle Retirement Community donates $2,000.00 to the Training Center.
Sparkie's replaces Leo's as the onsite food vender with regular operating hours seven days a week.
A house 942 Springfield Road was acquired and rehabilitated. It was sold with the proceeds ($14,000.00) going to the Endowment Fund.
Factory Mutual and Triad Fire Protection conduct a full-scale live fire test of a four story cooling tower.
The Board of Fire and Life Safety and the Pennsylvania State Fire Academy sign a contract to cooperate in training and record keeping.
Procured four office trailers from Philadelphia School District for use as classrooms and office space.
New enlarged emergency vehicle operating course set-up in eastern portion of the Training Center.
National Rifle Association consults on firing range improvements.
Two round flammable liquid surface firefighting tanks put into service.
The Boeing Company and Sunoco refinery each donate fire pumper's for student training.
New building number ten completed and ready for installing vehicle safety interlock.
National Rifle Association conducted forty-eight hour "Train the Trainer" course for local police officers.
William Mathews named Training Center Instructor of the Year.
New building number four completed and houses a classroom and adult probation.
Two large pressure vessels (tanks) were donated, delivered and set in place by Conoco Philips refinery for use in confined space rescue training.
Mark Talent donated his time to operate the maxim crane to strategically place the above tanks in the confined space for training.
Building number fourteen totally upgraded and houses Pats Place and paramedics.
Taylor Hospital Foundation awards ESTC endowment fund for no-charge firefighter training.
Safety improvements made to firing range target area and new state-of-the-art granulated rubber back drop installed.
National Industrial confined space rescue competition held at ESTC.
James Brees recognized as The Training Center Instructor of the Year.
Partnered with Office of Employment and Training and The Southeast Delco school district offer computed literacy training to high school seniors.
National Institute of Standards and Technology uses burn building to conduct positive pressure ventilation testing for firefighter safety.
Building number eleven - 4 Bay warehouse completed and used for storage.
Chester fire department recruit training conducted at the center with certification awarded.
The Training Center hosted PECO's foreign crews, brought into recover from storm damage in Delaware County.
Computer Training Lab moved to classroom 401 in building four and upgraded to wireless system.
New building number twelve put into service.
Administrative office computers are upgraded.
Ed Able, Jr. named Training Center Instructor of the Year.
Flashover simulator burn box is replaced.
Table top/ command training simulator established in new building number four.
A house in Colwyn is donated to the Training Center, It was rehabilitated, sold, and the proceeds added to Firefighter Endowment Training Fund.
Delaware County Vocational Technical Training School agrees to a multi-year agreement to conduct their Emergency and Protective Services program at this center.
Training Center begins classes for community services youths. It emphasizes on job training, job etiquette, resumes and interview techniques.
PECO awards a $5,000 grant to train youth in home fire exit drill and first aid. Projected to train over 1,000 youths.
Replaced the roof and skylights over the practical skills area due to storm damage.
Conoco Phillips donates large cylindrical tank for expansion of confined space training site. Maxi crane Inc., Mark Talent and Luke Cannon move and install tank and assist onsite completion.
BF&LS institutes a monetary support for Intercommunity Health to conduct EMT training at the Training Center.
David Karlunas is named Instructor of the Year.
Center is recipient of steel truss beams donated by Media Real Estate for use in future construction projects.
Burned out house on Hermasperta Drive in Darby Township donated to BF&LS for rehabbing and resale with profits placed in the Endowment Scholarship Fund.
Conoco Phillips donates funds for the purchase of a pick-up truck and trailer to be used as a mobile SCBS / Search & Rescue Training Facility. Delaware County Fireman's Association pays for exterior painting and lettering.
Creek Bank Restoration Project completed.
Burn building expansion and room conversion completed along with the replacement and upgrading of the refractory wall and ceiling tiles.
Computer lab relocated to classroom 401.
Gazebo donated to the center by Con-Agra Foods.
Juvenile probation moves into a renovated building on March 1st building number four.
Eileen Frampton named Instructor of the Year.
National Institute of Standards and Technology uses training center facilities to construct four - two-story homes to conduct structure element burn testing.
Parapit and other masonry repairs and renovations completed on live burn building.
Construction of building thirteen completed. The 3 Bay facility will be used to house two mini firing ranges and a shoot house known as M.A.T.C.H.
Computer aided A.V.A. system in three classrooms, and microphone systems in room 104 were upgraded.
Center entrance gates reconfigured to provide two access/exit points.
Trailer eleven is purchased and refurbished into a National Incident Command System Training Facility.
Received donated garage on Jackson Street in Sharon Hill. The upgraded renovations were completed and sold. All proceeds were placed into the Endowment Scholarship Fund.
Robert Heintzelman named Instructor of the Year.
Sparky's Café expanded by 360 square feet to accommodate additional tables and seating.
Propane fire mock-up is reconfigured and expanded for enhanced training.
A new Trench Rescue facility was completed as a result of Conoco Phillips funding.
Major improvements to the floor area in the basement including classroom 002.
Second range, eight lanes, was installed into building 13-C and a M.A.T.C.H. Shoot House in building 13B.
Building fourteen is converted to house offices for Computer Company CFATC training.
Major emergency repairs were made to the hopper area of the back drop in the fourteen position firing range.
Safety improvements made to baffle system in large range.
Dennis Gallagher named Instructor of the Year.
George Morgan was the first employee hired at the Training Center and he passed away in his sleep.
OFFICERS OF THE BOARD OF FIRE & LIFE SAFETY
PAUL V. FAGAN...................President
JOHN GALLAGHER..............Vice President
LEE TALIAFERRO................Treasurer
ROBERT M. HOLM...............Secretary
WALTER R. OMLOR, JR........Executive Director
Below is a listing, to date, of those who significantly contributed to the creation of the Emergency Services Training Center:
ACTION SUPPLY CORPORATION
ADAMS FIRE EQUIPMENT
MICHAEL BARRETT
BELL ATLANTIC
INDEPENDENCE BLUE CROSS OF PENNSYLVANIA
BOEING HELICOPTERS
JAMES BREES
JOSEPH CAPELLI
CARPENTERS LOCAL - 845
CASSIDY CONSTRUCTION COMPANY
CEMENT FINISHERS UNION - 592
CHESTER WATER AUTHORITY
CLEVELAND WRECKING CORPORATION
COMCAST CONGOLEUM CORPORATION
CONOCO PHILLIP REFINERY
COUNTY OF DELAWARE
DARBY TOWNSHIP COMMISSIONERS
DELAWARE COUNTY FIREMEN'S ASSOCIATION
DEVCO MUTUAL INSURANCE
ELECTRICAL UNION - 654
EMERGENCY SERVICES HEALTH COUNCIL
LOU ESSAF
EXXON CORPORATION
FINNERAN & HALEY PAINTS
FIZZAN BROTHERS
ZEKE FORLINI
GEAR MASTERS
JOSEPH GEDEIKA
R.N. GILLETTE, ENGINEER
HAZARDOUS MATERIALS ADVISORY BOARD
JACK LEE
ROBERT LINN, ARCHITECT
JOHN LYDON
M C PAINTING CORPORATION
SANDY MANTHORPE
MEDIA REAL ESTATE
JOSEPH MC GOVERN
TIM MOORE
ALBERT OLSHEFSKI
PAINTERS UNION LOCAL - 21
PECO
PHILADELPHIA SUBURBAN WATER COMPANY
EDDIE POLILLO
RENDIN ALARM
ROOFERS UNION LOCAL - 30B
SCOTT PAPER
WILLIAM SCOTT
WILLIAMSON TRADE SCHOOL
SHEETMETAL WORKERS LOCAL - 19
ETHEL SARGEANT CLARK SMITH MEMORIAL FOUNDATION
NATHAN SPEARE FOUNDATION
JOSEPH STONG PLUMBING
SUN COMPANY MARK TALLENT